Articles
Expert insights for sales, operations, capture, proposal, and marketing pros.
How to Understand the RFP Scorecard
What You Need to Know About the RFP Scorecard
What is an RFP Evaluation Scorecard and Why is It Important?
Requests for Proposals (RFPs) were designed as a tool to make unbiased procurement decisions to prevent corruption. As such, RFPs often contain detailed evaluation criteria that explain exactly how the evaluation committee will evaluate submitted proposals to make their final procurement decision.
Most frequently, the evaluation criteria will be represented in an RFP Scorecard, a scoring rubric that the evaluators will use to score the proposals. RFP Scorecards, often buried in the middle of lengthy, complex documents, can be easy to overlook. But in truth, the RFP Scorecard is one of the most essential components of an RFP to understand. When understood correctly, the RFP Scorecard serves as a sort of treasure map, clearly pointing the way toward a winning proposal.
With a keen understanding of scoring and how to write to the scorecard, companies can improve their evaluation scores, boosting their win rates and capturing more revenue. This article explains how RFP Scorecards work and gives tips on how to optimize your RFP responses to receive the highest score possible.
Understanding the RFP Scorecard
Finding the Scorecard
The first thing to figure out when analyzing RFP Scoring is whether or not there is an official scorecard. Generally, the scorecard will be easy to spot because it will be formatted like a rubric. Additionally, if a scorecard or scoring criteria exists, it will almost always be listed explicitly in the Table of Contents.
However, if your RFP doesn't have a scorecard, don't be too surprised. Smaller organizations often issue more informal RFPs, where they might list some evaluation criteria but don't always get specific about how they'll be making their decisions. If this is the case, you can always ask a clarifying question during the Q&A period to see whether they can provide more scoring information.
Determining Weight
Once you have the RFP Scorecard in hand, you'll want to determine the weighting of each category. In most RFP Scorecards, this will be made clear for you: usually, the weighting percentage of each category is listed in a column in the scorecard. If it isn't, you can do some quick back-of-the-napkin calculations. Take the points listed for each category and divide them by the total possible points. In the rare case that there is a scorecard but no defined scoring or weighting, you should ask for clarification during the Q&A period.
Writing a Weighted Outline
Once we understand the RFP Scorecard's weighting system, we'll want to make a plan to write to the scorecard by weighting the sections in our proposal in proportion to their weighted scoring value.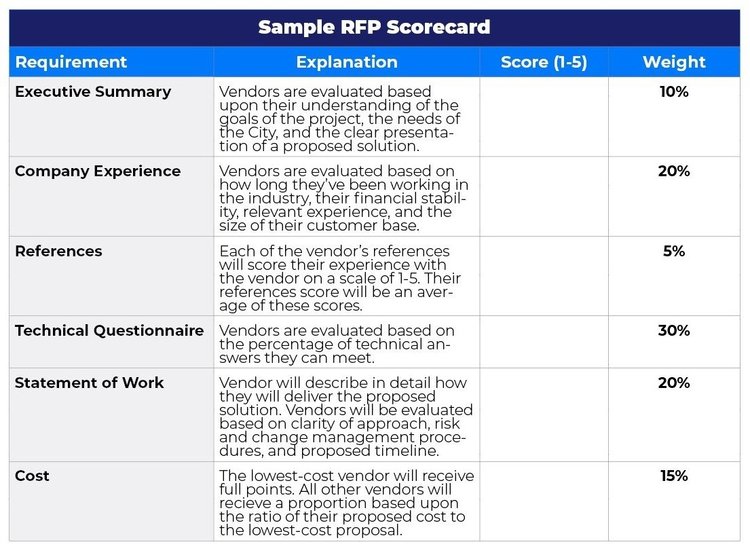 For instance, in the example above, the RFP has a 50-page limit and the Statement of Work will account for 20% of the total score of the proposal, so we would want to dedicate about 10 pages of the proposal to the Statement of Work. Similarly, if the Statement of Work will be evaluated based on three sub-categories then we'd want to allocate a little over three pages per sub-category.
In your weighted outline, you want to make sure that every single criterion in the scorecard is accounted for in direct proportion to the scoring criteria. This helps ensure you're writing to the scorecard and optimizing for every potential point.
Writing to the Scorecard
Now that you have a weighted outline, it's time to write the proposal to the scorecard. While the bulk of the proposal must be organized according to the RFP's instructions, everything else should cater to the scorecard, including headings and sub-headings that directly address the scoring criteria.
For example, if one of the scorecard's criteria is "Project Approach", you should have a subheading devoted to "Project Approach" to make it easy for the evaluators to notice your content and award you points. You might also consider highlighting key points in these sections by bolding key facts or using call-out boxes to highlight quotes, stats, or ROI figures.
Remember: at the end of the day, evaluators will fill out their scorecards. You want to make it as clear and easy as possible for them to notice the ways your company meets and exceeds the requirements listed in the scorecard.
Scoring Your Own Proposals – Red Team Reviews
RFP Scorecards are the map to the customer's evaluation. Make the most of having this map by running an internal scoring exercise to evaluate your proposal's strengths and weaknesses before you submit your bid.
The practice of reviewing your proposal to determine how the customer would score your proposal is known as the Red Team Review. While part of the larger Color Team Review System, the Red Team Review is an extremely valuable tool that can be implemented on its own or as part of the larger review system.
The Red Team Review is designed to emulate the customer's review process. Red Team Reviewers, typically Subject Matter Experts in the company, will evaluate proposals based on the prospect's published compliance and scoring criteria. Red Team Reviewers are responsible for highlighting areas that could threaten compliance, weak win themes or proof points, and confusing copy. The Red Team should return to the Proposal Team a fully scored proposal, so the proposal team can strengthen areas where they didn't score full points.
Utilize the Red Team Review to judge how well you've written to the scorecard and to highlight areas you can improve your score in a subsequent draft.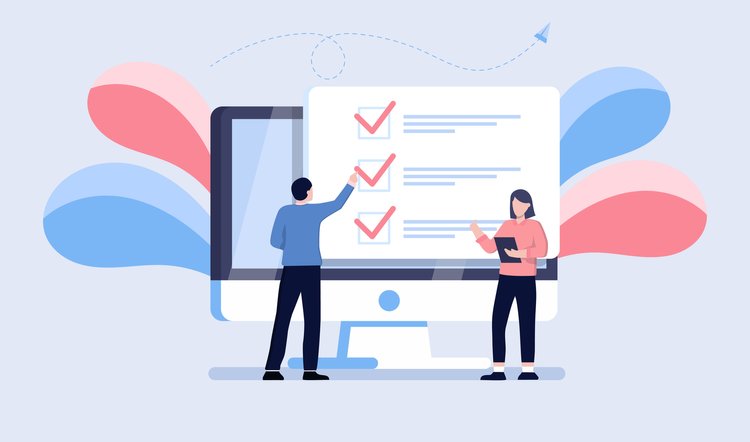 Beware: Watch for Traps and Competitor Fingerprints
Almost every RFP has been influenced by one or several companies before being issued. In fact, RFPs are often written to be favorable to a preferred vendor, making it extremely difficult for other vendors to win. Before committing dozens of hours and thousands of dollars in labor costs to an RFP process, you should always read the scorecard and the RFP closely to see if your competitors have significantly influenced the scorecard to be so favorable to them as to render your company out-of-the-running.
If a competitor was successful in shaping the scorecard to their advantage, you might be better off passing on the opportunity rather than wasting valuable time and effort on a losing proposition.
In fact, many of the best-performing companies, like OpenGov, use modern technology to analyze the strength of potential proposal opportunities to find the best opportunities and avoid opportunities shaped for competitors. Patri Score, a data-backed qualification tool, helps companies understand the quality of your bid and proposal opportunities, identify competitor traps and pitfalls, and communicate go/no-go decisions to your team.
Putting it All Together
The RFP Scorecard condenses all the complicated requirements of the RFP into a clear rubric that indicates how evaluators will be judging proposals. By understanding how RFP weighting works, writing a weighted outline, structuring your proposal to make it easy for evaluators, scoring your proposal drafts, and watching for competitor traps, your proposal team can construct stronger proposals, make better pursuit decisions, and capture more business.
Download the Guide to Modern Proposal Management eBook to Learn More
Want to learn more about how the best-performing companies optimize win percentage, reduce stress, and capture more revenue? This eBook breaks down the best practices of the most successful proposal management functions and translates them into valuable insights for companies of all sizes.
Download The Guide to Modern Proposal Management eBook to learn four key strategies to help you win smarter:
How to Implement a Disciplined, Documented Proposal Qualification Process

How to Design & Implement Win Strategies to Capture Business

How to Run a Color Review System

How to Track the Most Impactful Proposal Metrics